Hi all,
We are excited to announce a major leap forward for the POD flow within Grasshopper. The improvements will result in more: 1) accuracy; 2) transparency; and 3) protection from invalid claims. See below for details and other interesting news.
Making Grasshopper more useful to delivery businesses and shippers is a continuous project. We are grateful for your feedback and suggestions and expect you will see immediate benefits in the following areas:
Data Accuracy By collecting a few extra pieces of information from consignees and drivers, claims and the related cycle of information requesting and responding will be streamlined. Better accuracy should also increase your ability to operate profitably.
Transparency Better data collection combined with the new in-app delivery report summary will improve visibility for delivery providers, shippers and consignees.
Protection from Invalid Claims The improvements above, will enable delivery providers to properly document and protect themselves against claims.
---
What's New For Drivers
For the driver app, a few simple elements improve the delivery completion flow:
Handover The driver will hand the mobile device to the consignee to complete the delivery process.
Summary & exceptions The consignee will be able to view the driver's rejections if any exist, and add any other exceptions per item, as needed.
Update Especially for B2B deliveries, the consignee can update his/her contact details.
Full delivery summary Available for the consignee to view and sign.
What's New For Shippers
For shippers, the POD file will contain all of the new data collected by the new driver flow:
1. Any consignee exceptions will be visible in real time – allowing for quick resolution.
2. Fully updated consignee details, particularly helpful for B2B warehouse deliveries.
3. Better transparency will reduce filing of incorrect claims.
The Year of AI
It's been all around the news lately [Hard Fork Podcast]. From generative AI to new level of 'chat bots', starring OpenAI's ChatGPT (or as other call it… Sydney!?) [Read more in NYTimes]
We performed a little experiment and asked ChatGPT's opinion regarding the challenges of dealing with a complex process such as capturing a POD. The results were interesting: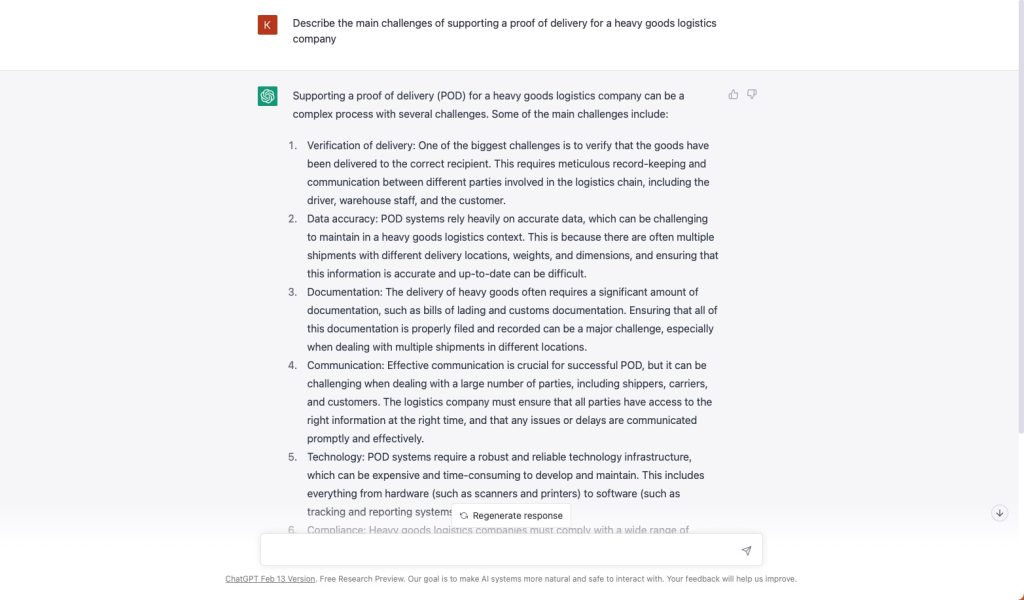 What's Next
This is just the beginning of our 2023 plans. In upcoming months we're going to keep enhancing existing flows as well as create new and exciting opportunities allowing our clients and partners business to scale.
Stay tuned.
GRASSHOPPER Labs Team.